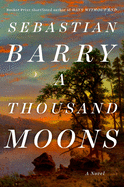 On the last page of Days Without End, Sebastian Barry's readers anticipated peace for Thomas McNulty, his beloved John Cole and their adopted Lakota daughter, Winona. Their army service and the Indian Wars were behind them. In A Thousand Moons, a sequel that's also satisfying as a stand-alone, Winona narrates their story of working fellow soldier Lige Magan's farm, with Tennyson and Rosalee, freed from enslavement.
It's the 1870s, but in Paris, Tenn., "whitemen in the main just see slaves and Indians." Winona masters English grammar because "it was bad enough being an Indian without talking like a raven," and keeps the books for a lawyer. The makeshift family tends their tobacco crop and keeps to themselves, but trouble finds them. The governor is "trying to drag Tennessee back to hatred and hurt," and a marauding gang of "old beaten Rebs" flouts justice. Winona is assaulted and can't remember what happened, and Tennyson is beaten. Drawing on the legend of her Sioux mother's "fame of great bravery" and fearful that her men would be hanged if they confront the renegades, Winona determines to avenge the wrongs.
The lyric prose in Barry's eighth novel reminds readers that the Irish author has also written 14 plays and three poetry collections. Among the acts of brutality and injustice, A Thousand Moons is rich with tender passages. Winona treasures her family, "John Cole, the keel of my boat. Thomas the oars and the sails." In a book that doubles as historical fiction and a coming-of-age novel, the heroine hunts for justice, but also discovers truths about herself. --Cheryl McKeon, bookseller, Market Block Books, Troy, N.Y.