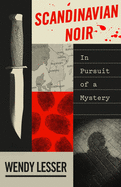 Since the early 1980s, critic Wendy Lesser (The Amateur: An Independent Life of Letters) has been an avid consumer of the growing body of mystery and thriller novels set in Sweden, Norway and Denmark. Scandinavian Noir: In Pursuit of a Mystery is both an enthusiastic appreciation of the genre and a pleasurable work of travel writing, in which Lesser compares her lived experience in the Scandinavian countries with the fictional world she calls "my imaginary Scandinavia."
In sections that literally take the reader from A ("Alcohol") to Z ("Zealous journalists"), Lesser explains how dozens of authors, including the late Swede Stieg Larsson (The Girl with the Dragon Tattoo) and Norwegian Jo Nesbø (author of the Harry Hole series), along with many lesser-known writers, have created a fully realized picture of Scandinavian society through their mystery offerings.
In the second half of Scandinavian Noir, Lesser shifts from literary critic to tourist, signaled by a shift in narrative voice from first person to third. From her base in Stockholm in the summer of 2018, she traverses Scandinavia, experiencing first hand life in countries that have become real for her on the page. Though she finds Copenhagen "definitely a bit grungy" compared to Stockholm and Oslo, Lesser's portrait of these countries generally is positive.
Whether readers are transfixed by the spectacular exploits of Lisbeth Salander, or impressed with the doggedness of Kurt Wallander, or even if they've never encountered these characters, they'll find in Scandinavian Noir an entertaining journey into the world of these mysteries and the cultural milieu that spawned them. --Harvey Freedenberg, freelance reviewer