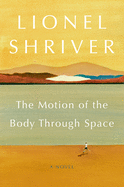 For 32 years, Serenata and Remington have bantered with a "dry, Thin Man repartee" and weathered the vicissitudes of marriage, careers and parenthood with grace. Even when Remington, 64, is abruptly fired from a 30-year career as an engineer on bogus charges of racism and harassment, they face it stoically. But when Remington embraces running, then racing, what Seranata sees as a "fetishizing of fitness" creates marital upheaval in The Motion of the Body Through Space by Lionel Shriver (The Mandibles; Property).
A lifelong solo runner, Seranata doubts Remington will persevere among the "mindless look-alikes" she disdains, "pounding in droves over the hills and dales." But he does--with the support of Bambi Buffer, his newly hired personal trainer, who observes Seranata as "dark" and promises "Rem" she can boost his performance a "hunerd percent." Next comes triathlon training, and Remington's obsession drains their savings and excludes Seranata. Meanwhile, her lucrative career as a voice-over artist and audiobook reader is sideswiped by criticism that she culturally appropriates accents. She's postponing overdue knee surgery, which will, ironically, end her own running career. As Remington nears the ultimate competition--"Mettle Man"--Seranata muses that perhaps their banter substituted for honesty. Supporting characters bring additional problems; their long-absent daughter reappears with her kids (singing Bible songs and offering judgment) and their son, whose income source is murky, contributes droll irreverence.
Following a suspenseful climax, Shriver's afterword offers a comforting summary of a couple's renewed solidarity and a philosophical take on aging. --Cheryl McKeon, bookseller, Market Block Books, Troy, N.Y.