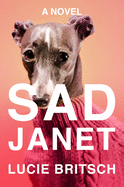 Narrated by a comedically brash protagonist, Sad Janet by Lucie Britsch is a smart and biting debut novel about sadness, control, womanhood, prescription drugs and belonging.
Everyone is taking pills for something except Janet. She's sad, but doesn't want to change. After her family stages an intervention, Janet considers disowning them. But with Christmas nearing, she accepts a prescription for a new drug that promises she can "surrender to the season" and afterward "return to [her] normal disposition."
Janet's story unfolds through acerbic observations as she waits for the festive spirit to overwhelm her. Her bleak thoughts about love ("a weight you carry"; "a string of misunderstandings"), antidepressants ("take the edge off... like edges are bad") and boys ("I really want things to not be about boys for once.... Or worse, men"), encapsulate a simultaneously hopeless and astute outlook. They're symptomatic of the sexist, judgmental world from which she feels apart--one populated by people like her uncle, who says, "I read somewhere that women need to speak now"; her mother, keen on Janet "pumping out babies"; and doctors unwilling to listen, imploring she be a "good girl and take the pills."
Beneath Janet's melancholic armor is a drive to be different. She identifies with the abandoned dogs at the shelter where she works, wishing a family would adopt her, too. Intrinsic to her narrative are her eccentric coworkers: always smiling Melissa, whose glossiness sometimes rubs off on Janet, and angry feminist Debs, who keeps Janet's cynicism in check. A searing, comedic and accessible take on depression and personality, Sad Janet delivers a comforting message about the value of individuality. --Samantha Zaboski, freelance editor and reviewer