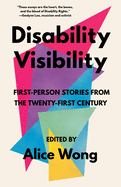 Disability Visibility: First-Person Stories from the 21st Century, edited by Alice Wong, expands on contemporary disabled narratives with the voices of talented writers, activists and professionals from across the disability spectrum. It is a raw, emotional collection, an investment in the power of storytelling to foster vibrant connections and an unapologetic rejection of "internalized ableism," the belief that one would be a better person if not disabled.
Wong, an activist and media maker, began advocating for herself as a person with a disability at a young age. She founded the Disability Visibility Project and partnered with StoryCorps to document the experiences of her peers. Wong places a high value on power of community, and with Disability Visibility she creates a literary space for members of her community to share uncensored accounts of their lives, both the difficult times and the joyous ones.
Contributors include emerging writers as well as those whose names have long been associated with disability justice. Comedian Maysoon Zayid discusses her comedy tour, "The Muslims Are Coming," and how cerebral palsy affects her ability to practice her religion. Eugene Grant writes about how good it felt to discover a powerful historical figure who, like him, has dwarfism. In an especially poignant story, June Eric-Udorie explains why her "dancing eyes" made her feel like a piece of clockwork waiting to be fixed.
Commemorating the 30th anniversary of the Americans with Disability Act, the 37 powerful stories in Disability Visibility reveal the depth of everyday courage and the extraordinary human capacity to find humor in the face of life's adversities. --Shahina Piyarali, writer and reviewer