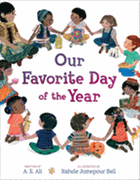 Gorgeously inviting illustrations and a joyful theme will likely make Our Favorite Day of the Year kindergarten classrooms' favorite book of the year.
Four boys--Musa, Moisés, Mo and Kevin--start kindergarten as strangers sitting at the same table, but by sharing their respective cultures, they become best friends. For show-and-tell throughout the year, students take turns telling their classmates about their favorite day of the year, including pronunciations, special foods and their familial or cultural traditions. At the end of every show-and-tell is the refrain: "Everyone could see why [the celebration] was [this boy's] favorite."
Illustrations by Iranian-born Rahele Jomepour Bell (Playdate by Maryann Macdonald), using digital brushes and scanned hand-printed textures, are a riot of color and patterns. Lush depictions of piñatas, challah, flowers, costumes and even a homemade baking soda volcano inspire long and careful perusal, while the happy faces of children bear out the idea that sharing differences can bring people together. Bell's illustrations also signal rich diversity among the friends. And a tapestry of images evoking cultural and spiritual symbols from around the world lines the endpapers.
Author A.E. Ali does an excellent job of having the children describe their favorite days in an accurate but developmentally appropriate way, with emphasis on the things young readers will be most interested in--food, presents, decorations, family togetherness. The comforting repeating pattern of children taking their turns in show-and-tell helps young readers anticipate what will come next. This lovely book is the consummate first day read for preschool or kindergarten. --Emilie Coulter, freelance writer and editor