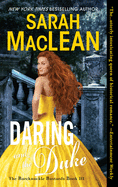 High adventure, intrigue and passionate romance inhabit Sarah MacLean's third and final entry in the Bareknuckle Bastards series (after Brazen and the Beast). It can be read as a stand-alone tale although readers will surely want to explore all three.
Grace and Ewan fell in love during their dangerous, violent childhood, but were torn apart by the schemes of a manipulative duke. Grace fled to London with two friends, where they built formidable reputations as the Bareknuckle Bastards, with fists and raw courage, on the rough streets of Covent Garden. Years later, the three have become the most powerful people in their corner of the world. Grace now owns an exclusive women's club and is the acknowledged Queen of the Garden. She's powerful, rich and fears nothing--except the unshakeable mix of love, anger and need for revenge she feels for Ewan.
Now known as the Mad Duke of Marwick, Ewan has never forgotten Grace, either, and has come to London to claim her. Grace doesn't trust him, for his betrayal left deep scars on her heart. He hates himself for having hurt her and will do anything necessary to stand by her side once more. But can a duke of the realm find happiness with a queen of the dark side of London?
This rousing finale to an excellent series has intense emotional drama, hot romance, fierce fight scenes--and an ending that will leave readers cheering. --Lois Faye Dyer, writer and reviewer