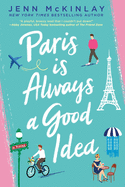 Prolific author Jenn McKinlay (Buried to the Brim) departs from her long-running series and delivers a fun, feel-good, stand-alone novel that will delight readers. Paris Is Always a Good Idea, a bittersweet story, focuses on a disillusioned woman in her 30s who sets off on an exciting worldwide adventure.
After college, Chelsea Martin goes through seven years of struggle. Her beloved mother dies, and grief-stricken Chelsea buries herself in work, becoming a corporate fund-raising star for a prominent cancer coalition in Boston. When her "buttoned-down" mathematician father, a widower, proposes to a woman he's known for only two weeks, Chelsea suddenly takes stock of her own life, wondering why she isn't happy or in a fulfilling romantic relationship of her own.
Chelsea decides, on a lark, to return to a time in her life when she believed she was happy and carefree--full of love and joy, hope and promise. Taking a much-needed sabbatical from her successful career, she winds her way through Europe to try to recapture the spirit of the woman she once was--retracing a route she traveled after college. She seeks out and revisits old flames, starting in a quaint, small town in Ireland; returning to the glittering lights of romantic Paris; then on to a vineyard tucked into the rolling hills of Tuscany. By reuniting with lovable old beaus in the hope of rekindling romance in each picturesque locale, Chelsea learns much about herself and what she truly wants from life.
Readers will savor the feisty, adventurous journey of McKinlay's self-deprecating protagonist as she re-examines her past in order to chart her future. --Kathleen Gerard, blogger at Reading Between the Lines