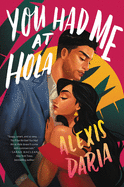 Alexis Daria's You Had Me at Hola pairs a soap opera star and a telenovela star in a frothy, steamy romance full of family, drama and fun.
A strong romance is filled with tension--the issues that keep the protagonists apart--and Daria sets up several believable conflicts here. Back in New York City from Los Angeles to film Carmen in Charge, Jasmine has to reckon with her close-knit Puerto Rican immigrant family, who want her to focus on marriage and children, dismissing her career even as she earns industry acclaim. After her latest breakup has once again landed her in gossip magazines, a fed-up Jasmine and her cousins develop a Leading Lady Plan to move forward in her career--without the drama.
Ashton has avoided gossip ever since a stalker broke into his house, going so far as to leave his son primarily in his father's care in Puerto Rico. He flies home as frequently as possible, but he worries about the dangers of fame, even as he hopes to break out of telenovelas. A relationship with someone hounded by gossip reporters is not ideal.
As Jasmine tries not to fall in love yet again, Ashton tries to keep his private life private and the relationship between them heats up on- and off-set. How will they achieve their career goals despite an irresistible connection that could upend everything?
Daria builds the drama with dual narration from characters as kind as they are ambitious. Readers will want their happily ever after as desperately as Jasmine and Ashton do. --Suzanne Krohn, editor, Love in Panels