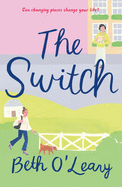 Perfect for fans of Jojo Moyes, The Switch is a nuanced, heartfelt look at two strong women and the importance of being brave enough to change the status quo. Leena, a hotshot young London executive, has been struggling at work, and is told she must take a two-month sabbatical. Her grandmother Eileen, a feisty Yorkshire pensioner, has been lonely since her husband walked out, and her tiny village doesn't offer much in the way of septuagenarian dating options. So, Eileen and Leena decide to swap lives in The Switch, the second novel by Beth O'Leary (The Flatshare).
In Yorkshire, Leena must come to terms with memories she's suppressed, and is forced by proximity to talk to her mother, whom she's been avoiding. Slowly she begins to find a new freedom in letting go of the past, and she starts to realize that she loves how village life requires her to stay engaged with the people around her.
Meanwhile, Eileen is having the time of her life in London, hanging out with Leena's flatmates and dating online. She starts seeing a handsome actor, and is having the best sex she's had in decades. But there are some things about her village life that she finds herself wistfully missing.
Poignant and hilarious, The Switch does a wonderful job exploring both twilight love and youthful indiscretion. Eileen and Leena make startling discoveries about themselves and each other, and the way their relationship changes and grows is truly beautiful. A perfectly uplifting summer read, The Switch is not to be missed. --Jessica Howard, bookseller at Bookmans, Tucson, Ariz.