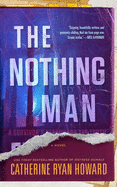 "I have to tell you, it's a harrowing read but I just can't put it down. It's riveting, it's devastating." A character says this in Catherine Ryan Howard's The Nothing Man, to describe the book within the book, which carries the same title but is written by the protagonist, Eve Black. The same could easily be said about the compulsive thriller Howard has written.
One night in 2001, when Eve was 12, an intruder slipped into her family's home and murdered everyone--her father, mother and younger sister--except Eve. And they weren't the killer's first victims. He had attacked, raped or murdered five others.
Eighteen years later, the killer has never been identified. Eve decides to write a book about what happened to her family and the other victims. She calls it The Nothing Man, a name the media gave him because he leaves behind nothing--no clues, no DNA traces, just a void in the lives of his survivors. But now Eve declares she's coming for him.
Those familiar with Michelle McNamara's I'll Be Gone in the Dark, which inspired Howard, may spot similarities between the Nothing Man and the real-life Golden State Killer, but Howard (nominated for an Edgar for The Liar's Girl) takes her story in other directions. The Nothing Man is an ingenious nesting doll, revealing surprises in alternating chapters from Eve's book and those from the killer's point of view as he reads said book. Howard can paint moving depictions of grief and survivor's guilt while terrifying readers and making them triple-check the locks on their doors. This isn't nothing; it's the author's best work yet. --Elyse Dinh-McCrillis, blogger at Pop Culture Nerd