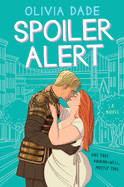 Readers don't need to write fan fiction or love high-fantasy television epics like Game of Thrones to fall for Olivia Dade's witty and swoon-worthy Spoiler Alert, but anyone who does will find a special sort of joy in this romance.
By day, the public loves Marcus as a handsome, somewhat dim celebrity, but by night Marcus secretly writes the version of Gods of the Gate he wishes existed. Geologist April, cofounder of the fan fiction server they started together, is one of the few people who knows the real Marcus--except they've always kept to screennames. They've been friends for years, but when Marcus--as himself--asks April on a date in what people assume is a publicity stunt, their fan fiction partnership becomes something more--only April doesn't know the whole story. The secret identity trope is common, but Marcus has a good reason for lying to April: if his hobby is exposed, his career will be over.
April may receive criticism for her plus-size cosplay, but Dade's body- and fat-positive writing and characters are both warm and revolutionary. Likewise, Marcus is dyslexic, and Dade gives him an empowering, validating story arc.
Spoiler Alert is told in alternating point-of-view chapters plus snippets of fan fiction, direct messages and short (often terrible) bits of script from Marcus's acting roles. This structure immerses readers in the romance between April and Marcus and the show they love. Spoiler Alert is at turns warm, hot and funny, making it perfect for any romance fan. --Suzanne Krohn, editor, Love in Panels