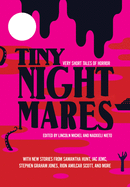 In sinister tales brimming with suspense, this slim yet potent collection of flash fiction probes humanity's dark side and the horrors born of global crises.
In Tiny Nightmares, edited by Lincoln Michel and Nadxieli Nieto (coeditors of Tiny Crimes), each entry conjures a creepiness that lingers. Classic body horror and mainstays of speculative fiction chill via eerily original scenarios--a dismembered corpse is revealed by melting snow, a decaying body is willfully ignored by a partying coterie, ants carry home a vampire's severed fingers. Explorations of social and technological concerns--a horrifying solution to global warming, a rideshare passenger with unconventional luggage, a woman's (literally) haunting social media history--add a modern twist.
The frightening volume takes what is dreaded most and gives it life. It closes the gap between reality and nightmare, allowing deep-seated fears to manifest--a predatory man, a murderer on a dating app. In one particularly unsettling passage, an officer muses on how someone handcuffed in a police car could shoot themself, while footnotes reference true accounts of people of color whose deaths mirror this experience.
The 40-odd pieces span numerous subgenres, including sci-fi, occult, paranormal and even one choose-your-own-adventure. Authors vary their tones, some sardonic and deadpan, and others as apprehensive as readers will be, even as they succumb to the lure of the next page. With severely unhappy endings and unsavory imagery, Tiny Nightmares is the rare horror collection that will distress the hardest of hearts. --Samantha Zaboski, freelance editor and reviewer