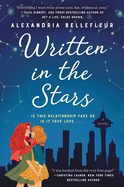 What do a pragmatic, career-focused, monochromatic-loving lesbian and a star-gazing, fortune-telling, color-obsessed bisexual have in common? A meddling brother and friend, who believes in love at first sight, and whom they both hate to disappoint.
When that brother/friend sets Darcy (his sister) up with Elle (his business partner), sparks do fly--but not the romantic kind (at first). A disastrous blind date, reminiscent of Jane Austen's Pride and Prejudice's meet-cute, prompts both women to retreat to their separate corners, determined never to see each other again. But when Darcy tells Brendon a little white lie to get him off her back, he blabs to Elle, who confronts Darcy, which leads to a pact: pretend to be each other's girlfriend through the holidays, attending the obligatory family and office parties, and "break up" in the New Year with no one--especially Brendon--the wiser.
With that setup, it is hardly a surprise when there's a flicker of attraction here, a sudden sharing of feelings there and a deepening connection between two souls. Both had been looking for love in all the wrong places and are now desperately trying not to get their hopes up about what's right in front of them--someone who laughs at their jokes, supports their hopes and dreams, and even offers kisses and comfort. But with the breakup deadline looming and family dramas during the holidays surfacing, can they trust each other--can they trust themselves?--to believe that fate brought them together forever?
Alexandria Bellefleur has crafted an impeccable debut romance in Written in the Stars: lighthearted and sexy, contemporary and timeless, perfect to enjoy during the holiday season or for celebrating queer love any time of the year. --BrocheAroe Fabian, owner, River Dog Book Co.