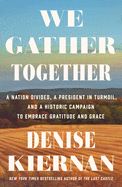 Before tucking into the cranberry sauce and turkey, readers may wish to pause and appreciate Sarah Josepha Hale. The New Hampshire author, born in 1788, campaigned for decades to have an official national day of gratitude.
In We Gather Together: A Nation Divided, a President in Turmoil, and a Historic Campaign to Embrace Gratitude and Grace, Denise Kiernan (The Girls of Atomic City) presents both the story of Thanksgiving, chock-full of historic tidbits, and well-documented support for the benefits of gratitude. Sarah Hale, widowed mother of five and dynamic "editress" of the esteemed and trend-setting Godey's Lady's Book magazine, embraced two causes: the education of women and the creation of an official day for the nation to express gratitude. "Festivals, rituals and celebrations" of thanks "permeates cultures," Kiernan writes. But "there was no 'first' " Thanksgiving, she notes, debunking numerous versions of the romanticized "Pilgrim-and-Indian" feast. Traditions evolved. Jefferson Davis set the Confederacy celebration for a week before Lincoln's pick; successive presidents declined to proclaim a holiday, decreeing annual dates. Retailers pressured President Franklin Roosevelt to name a day that would maximize the holiday shopping season, and in 1941 Congress proclaimed the fourth Thursday in November a legal holiday.
Through wars, expansionist policies displacing Indigenous people, the 1918 pandemic (Kiernan notes the irony of We Gather Together publishing in the year of "social distancing") and more--Thanksgiving survived. Kiernan hopes Hale's vision--to "exhibit the best of ourselves"--will thrive, through "appreciation. Inclusion. Compassion. Celebration. Charity." --Cheryl McKeon, bookseller, Book House of Stuyvesant Plaza, Albany, N.Y.