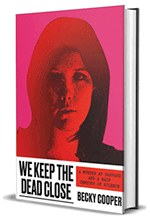 In We Keep the Dead Close: A Murder at Harvard and a Half Century of Silence, Becky Cooper re-creates her sprawling investigation into a long-unsolved murder, drawing readers into the case's thrilling twists and turns. The book is about Cooper's near-obsessive interest in Jane Britton, a Harvard graduate student of archeology who was bludgeoned to death in her off-campus apartment in January 1969. The murder spawned decades of wild speculation and hearsay revolving around a powerful professor and the supposed ritualistic treatment of Jane's body--according to rumor, "her body was covered with fur blankets and the killer threw red ochre on her body, a perfect re-creation of a burial ritual." Passed down over the years, the rumors reached Cooper as a student at Harvard as "macabre legend," one whose allegations of a vast cover-up were all-too-believable, given Harvard's vast institutional power. Cooper's simple curiosity soon morphed into a years-long quest for the truth behind the legend.
The narrative moves on parallel tracks, recounting the initial investigation into Jane's death in 1969 as well as Cooper's own present-day sleuthing. The bones of an intriguing true-crime narrative are all here, but Cooper is at least equally interested in introducing readers to the highs and lows of her own investigation: the exciting leads, the dead ends, the many complicated people she comes to know. Cooper skillfully recounts the thrill of a new suspect coming to light or fresh information allowing for a different, potentially revealing, angle on Jane's murder. And, as her investigation slips deep into tangents, she is able to use the murder as a jumping-off point for a wide range of issues.
The red ochre found at the scene leads Cooper to delve into the state of archeology at the time, including its legacy as a colonial tool and the way nations continue to use it to re-shape and control their pasts. At the time of the initial investigation, the red ochre was merely a sensationalist element that helped Jane's murder become a more engaging story for the press. Cooper goes in a different direction, using the archeological connection to explore how we shape stories from the past--such as Jane's murder--to serve modern purposes. Cooper makes a powerful argument that Jane's murder became a lingering myth in Harvard circles as a way to interrogate questions of institutional sexism, misogynistic violence, domineering professors and more. In a more concrete sense, Cooper's impressive research allows her to examine the claustrophobic world of archeology and, in particular, the incredibly tense archeological digs Jane participated in that some thought were key to her fate.
In one of the most passionate aspects of the book, Cooper sees understanding the climate of sexism and misogyny as key to understanding Jane's story. The legend of Jane's murder implicates a professor who was supposedly in a relationship with Jane. While Cooper investigates the truth of the legend with journalistic rigor, she also explains why these rumors would seem so believable in a male-dominated culture where professors regularly pursued students and had enormous power over students' careers. Jane's story might have turned into a legend as a way of warning students about a particularly abusive professor. Through her many interviews, Cooper is able to describe a sense of threat that often went unspoken. One interviewee describes the harassment common on expeditions that led students to warn each other about "so-and-so, because he has grabby hands": "People will say it in conversation, but not always out loud. There is an antagonism. There is a pressure in the field. There is a looming danger." Cooper seems to ask the question: Was Jane's death a horrific anomaly or a symptom of a deeper illness?
Throughout, Cooper never loses sight of Jane, an eccentric, intense person who left her mark on many of the interviewees. Cooper avoids "detachment from the people who were killed and the families that were grieving" that is sometimes found in true crime. Instead, we meet many of the people who are living with memories of Jane as a funny, sometimes frustrating person whose unsolved murder left deep emotional wounds. Jane's brother says: "As I think about it now, my two questions are always the same: who did it?... And, would she have been happy?... I don't think she would have been.... People did not satisfy her expectations very well." As the book goes on, present-day developments lead to the seeming identification of Jane's murderer. Even then, questions linger, and Cooper doesn't seem fully satisfied. By the end of the book, Jane's story has become so sprawling and personal that it resists simple answers.
We Keep the Dead Close is part true crime, part memoir, part re-creation of the vast, compelling, disappointing investigative process. The murder at the center of the book is a rabbit hole that contains further rabbit holes, many of which the author capably leads us down. While the book is wide-ranging, there are no purposeless tangents. Instead, we are given a portrait of the kind of world Jane lived and died in, granting us both an understanding of Jane and the myths that her murder created. We Keep the Dead Close draws readers into the ins and outs of a compelling investigation where every fascinating mystery seems to lead to another. --Hank Stephenson
Grand Central Publishing, $29, hardcover, 512p., 9781538746837, November 10, 2020