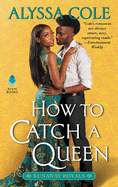 With How to Catch a Queen, the first entry in a projected series called Runaway Royals, Alyssa Cole (When No One Is Watching) has created a glamorous romance. How to Catch a Queen is set in the fictional African kingdom of Njaza. Njaza is isolated from Thesolo, the kingdom central to Cole's Reluctant Royals series, and has long been ruled as a strict patriarchy, led by King Sanyu and his fierce adviser, Musoke. But Sanyu I is dying, and the two old men hatch a scheme for Sanyu II to marry Shanti Mohapi of Thesolo as soon as possible.
Njazan culture allows the king to divorce his wife after four months and continue his search for a "true queen." Sanyu I had dozens of wives, and Sanyu II has grown up suspicious of women. With only four months to get to know her new husband, Queen Shanti is desperate to bring change to Njaza, where women are expected to remain silent and not get involved in government. As Shanti and Sanyu slowly build a tentative relationship, Sanyu will have to face down Musoke, who is determined that nothing will change in Njaza, even if the people are crying out for change, and a new king has taken the throne.
Delving into matters of colonialism, economic independence, patriarchy and gender roles, How to Catch a Queen is a thoughtful romance. But it also includes lighthearted moments as Shanti helps Sanyu shed his anxieties, and embrace the possibilities of their future. How to Catch a Queen combines fairytale glamour with modern sensibilities in the best possible way, making for an enjoyable romance. --Jessica Howard, bookseller at Bookmans, Tucson, Ariz.