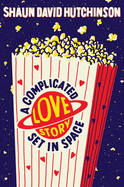 Outlandish adventure and meaningful self-discovery combine in Shaun David Hutchinson's A Complicated Love Story Set in Space, a far-out, genre-bending novel for teens.
"You are in space, floating outside a ship called Qriosity. There is no reason to panic."
Noa begs to differ. One minute the jaded teenager was in bed in Seattle, the next he's in a space suit warning him his "heart rate is exceeding the maximum recommended beats per minute." Noa isn't alone--two other teens are also on the ship, with no memory of how they got there. As Noa, DJ and Jenny search the ship for answers, they get to know one another, all while facing ship malfunctions, alien monsters and time loops. Attraction begins to kindle between Noa and DJ, but Noa struggles with a history of sexual assault and an inability to trust. Compassionate DJ, meanwhile, will do anything to protect Noa, even if it means his own love goes unrequited. As the three teens bond, life on the ship starts "to feel more real to [them] than... life on Earth." But when memories and their very identities become suspect, the new family they've developed threatens to shatter.
A Complicated Love Story Set in Space is exactly that, but don't let the direct premise fool you: Shaun David Hutchinson's (We Are the Ants) ninth novel for young adults packs in enough twists, turns and wacky moments to make for a wild ride. Through humor and heartache, Hutchinson balances an incredible situation with the great emotional depths and fragile relationships of his characters. More than survival or love, Hutchinson's novel is about personal identity and how we define ourselves through memories, experiences and the perceptions of others. --Jennifer Oleinik, freelance writer and editor