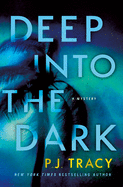 An emotionally and physically scarred army veteran's attempts to manage civilian life jumpstarts Deep into the Dark, an exciting series launch that also sets a new direction for P.J. Tracy's career. It skillfully melds the psychological thriller with the police procedural while persuasively delving into veterans' issues.
The only soldier to survive a car bombing, Sam Easton returned from Afghanistan with half his face disfigured and deep mental wounds that cause blackouts. Each day is a trial in survival as Sam bartends at the Pearl Club, which attracts Hollywood insiders, while dealing with the breakup of his marriage. He finds a purpose in helping his platonic friend and fellow bartender Melody Traeger after she's beaten up by her boyfriend, music promoter Ryan Gallagher.
When Ryan is murdered a couple of days after Sam confronted him, the veteran falls under the radar of LAPD homicide detectives Maggie Nolan and Al Crawford, who are also investigating several killings on Los Angeles's Miracle Mile. Al is suspicious of Sam. But Maggie believes Sam is innocent because he reminds her of her brother, a soldier killed in Afghanistan. The investigations intensify when another person close to Sam is murdered and Melody believes she is being stalked.
Believable, complicated characters fuel an energetic plot full of realistic twists. Deep into the Dark marks the third solo effort from P.J. Tracy, the pseudonym of Traci Lambrecht who, with her late mother, P.J. Lambrecht, wrote 10 lighter, award-winning novels about Minneapolis's Monkeewrench Software company. Tracy delivers a darker, richer story in Deep into the Dark. Mom would be proud. --Oline H. Cogdill, freelance reviewer