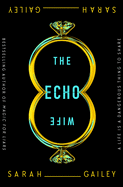 Sarah Gailey's unsettling The Echo Wife considers pioneering scientist Evelyn Caldwell, who had everything she wanted: an award-winning career pushing breakthroughs in the field of human cloning, and a husband who worked alongside her and supported her ambitions. And then her life was rudely derailed.
It started with her finding a stray hair on her husband's jacket. It wasn't Evelyn's; it wasn't even human. To her horror, she discovered her husband, Nate, had been having an affair--with a clone. A genetic replica of Evelyn. Created in secret with Evelyn's research, which Nate had stolen.
Even worse, Evelyn's clone, Martine, can do something no clone should ever be able to do, and its discovery could shut down the work Evelyn has spent her entire life perfecting. But instead of euthanizing the "specimen," Evelyn is forced to help Martine do something unimaginable.
Though the novel has sci-fi elements, it reads like a mind-stretching domestic thriller. From chapter to chapter, whatever readers think might happen next is likely wrong. The Echo Wife explores identity, agency and the price of female ambition. Some of Evelyn's inner musings are repetitive, and a major plot point--about how Martine pulls off the aforementioned impossible feat--is left unexplained, but intriguing questions are raised about the ethics of cloning. While Evelyn describes herself as "cold, logical, direct, merciless," Martine exhibits compassion and can sometimes see Nate's true nature more clearly. Gailey (Magic for Liars) will have readers pondering what truly makes someone human. --Elyse Dinh-McCrillis, blogger at Pop Culture Nerd