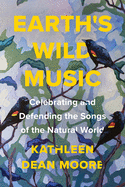 Essayist, climate activist and nature philosopher Kathleen Dean Moore has spent three decades celebrating the natural world in her writing. Earth's Wild Music, a collection of vivid, lyrical essays, renders her love for nature in striking detail, and urgently calls for its protection against fossil fuels, overdevelopment and other ills.
Moore (Wild Comfort; Great Tide Rising) begins by quoting Mary Oliver, who wrote, "My work is loving the world." Moore notes that "loving the world became more complicated, and rejoicing got harder" as she witnessed the destruction of habitats and the disappearance of wildlife. But Moore, like Oliver, keeps on loving the world, and working for its preservation and flourishing. She divides her narrative into four sections: "Tremble," "Weep," "Awaken" and finally "Sing Out." Each section contains essays highlighting what she loves about marsh and lake and mountain, and elegies for those species or places that have faded out or been destroyed.
Having spent her life hiking, canoeing and otherwise enjoying the natural world, Moore has seen both gradual and sudden changes. She reports on climate change and wildfires, cold nights in sleeping bags, forest walks with her grandsons and years of adventures with her husband, Frank. Many of her essays pick up the theme of music from the book's title: not only birdsong, but ocean waves and glaciers melting and the songs of humpback whales.
Passionate and thoughtful, Moore's essays transport readers to the particular places she loves and urge them to pay attention. Hers is a thoughtful, insistent, necessary voice in the ongoing conversations about how to treat the natural world. --Katie Noah Gibson, blogger at Cakes, Tea and Dreams