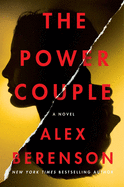 The Power Couple by Alex Berenson is an intriguing marriage drama embedded within an international thriller. It spotlights the kidnapping of an FBI agent's daughter in Barcelona by a handsome French stranger with possible connections to the Russians.
Rebecca and Brian Unsworth, married for 20 rocky years, both fantasize about terminating their turbulent union while keeping up appearances for the sake of their teenage children, Kira and Toby. Rebecca's all-consuming job as a counterterrorism agent for the FBI gives her more financial clout in the marriage until Brian, working as a coder for the National Security Administration, sells his casino app for $2 million. The windfall irons out some of the creases in their relationship, but the real test comes when Kira is abducted during a family vacation in Barcelona. In their efforts to find Kira--an international operation involving Spain's intelligence agency--the Unsworths worry that their high-profile jobs have left their children vulnerable to malevolent foreign actors. The truth will challenge them beyond anything they could have imagined.
A celebrated veteran of the thriller genre, Berenson (The Shadow Patrol; The Deceivers) is masterful at shifting the story's narration between Rebecca, Brian and Kira, building tantalizing suspense amid observations of how a promising marriage became weighed down by secrets and hostility. The chapters narrated by Kira capture her terrifying days in captivity with fast-paced, heart-thumping energy.
Bursting with tension, The Power Couple picks up speed and hurtles toward a shocking conclusion. --Shahina Piyarali, reviewer