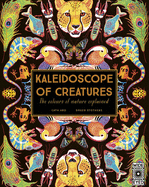 Critters across the animal kingdom gather by hue and pattern in Cath Ard and Greer Stothers's vibrant and evocative Kaleidoscope of Creatures: The Colors of Nature Explained.
Ard (the In Training series) dedicates every double-page spread to a range of animal colors and markings that are all connected by hue. On each page, there is an overview of the animal coverings' purpose in nature, which, along with the shared color palette, unifies creatures of disparate size, behavior and habitat. Ard highlights several animals per page with highly descriptive language and brief but intriguing facts. A spotted black-and-white inyo toad blends in with "pools of light-dappled water on the forest floor," while a greater blue-eared starling's iridescent feathers "make it gleam like polished metal." Ard notes when creature colors are designed to help animals blend in or stand out, including additional parenthetical descriptors such as "camouflage" or "danger" throughout the book.
Stothers uses risography (a high-speed digital printing method) to great effect, creating brilliant complementary and technicolored backgrounds to emphasize animal arrays. Stothers cleverly uses the book's format, deftly featuring symmetry on several pages and arranging the images so that larger creatures span the gutter. Taking liberties with scale, these page designs fracture the spreads to evoke the kaleidoscope of the book's title.
Eye-catching illustrations should garner immediate interest, while the generous trim size, clean font and sophisticated but digestible text segments suit curious young readers. Supplemental material brackets the book with an animal family tree, glossary, index and environmental call to action. The overall result is both instructive and striking. --Kit Ballenger, youth librarian, Help Your Shelf