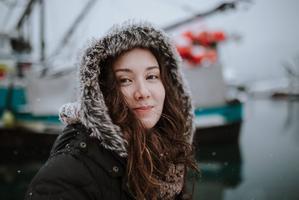 Michaela Goade is an artist and graphic designer who lives and works in Juneau, Alaska, where she was raised. Inspired by the coastal wilds of Southeast Alaska, she aims to capture its magic and honor its vibrant cultures. Goade is from the Raven moiety and Kiks.ádi Clan from Sitka. She has illustrated Encounter (written by Brittany Luby; Little, Brown) and Raven and the Tide Lady (written by Pauline Duncan; Sealaska Heritage). Recently, Goade won the 2021 Caldecott Medal for illustrating We Are Water Protectors, written by Carole Lindstrom and published by Roaring Brook Press.
How does it feel to win the 2021 Caldecott Medal?
It has felt so surreal! Not that long ago, winning a Caldecott Award seemed like a far-fetched dream. As the shock begins to settle, what I'm feeling most is a LOT of gratitude. Gratitude for the Caldecott committee, water protectors around the world, the Native kidlit community, author Carole Lindstrom, editor Mekisha Telfer and the amazing Roaring Brook team that worked so hard to bring this book to life.
We Are Water Protectors is a picture book that is a call to action inspired by Indigenous environmental movements. How did you feel when you read the text?
I was captivated from the first read-through. With a minimal amount of text, Carole was able to convey hope and inspiration while also speaking to the story's gravity and urgency. I was immediately inspired by the possibilities this presented for the art.
Were you excited to be a part of telling this story?
Yes, there was SO much excitement! It was also an honor and responsibility to be trusted with this story. I really wanted to do right by everyone and make the Standing Rock water protectors proud.
What was your approach to making Lindstrom's text visual?
In general terms, I wanted the art to sing with life and spirit, especially the water. I wanted water to be another main character that would change in form, color and energy. I wanted to focus on the water protectors and the incredible diversity, unity and YOUTH leadership found at this historic gathering, and not directly depict the forces they were up against. To me, highlighting everything they were fighting for instead of against felt powerful. My favorite line from the book is "We fight for those who cannot fight for themselves."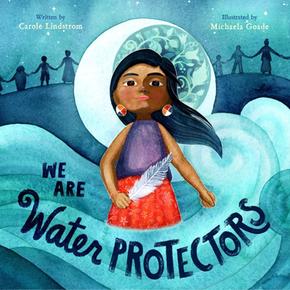 A thing I particularly love about this book is how it melds the literal and figurative, how you use color and line to make the book feel both dreamy and down-to-earth. How did you accomplish that? Is that something you set out to do?
Dreamy and down-to-earth--I love that articulation! I'm not sure if that direction was entirely intentional when I first began this book, but it definitely evolved in that direction over time. I spend a lot of time in my own little dream world, so on one hand I think it comes quite naturally, but this project helped me realize just how much I love exploring those pockets of magic and cosmic energy within a story, especially if it's a more literal one. And when you spend a lot of time in nature, it is easy for those lines to blur. In traditional Tlingit cosmology, there isn't a clear boundary between reality and a supernatural realm, and that is something that has always resonated with me.
Is there anything in particular that you, as illustrator, hope readers take from We Are Water Protectors?
Oh, that is hard to narrow down! I hope readers leave the book feeling a sense of connection, both to each other and to the land. I hope readers are inspired to think about how they are currently in relationship with the land, and come up with ways to be water protectors themselves. For our Indigenous children (and adults), I hope they feel seen and know that their stories and voices are incredibly important. I hope readers everywhere gain a deeper understanding of Indigenous-led movements/environmental justice issues that affect us all and recognize how important it is that we amplify and lift up Indigenous voices all year long.
Is there anything else you'd like to tell Shelf Awareness readers?
I would like to thank everyone who championed this book, embraced its message and helped nurture future water protectors. It has been so incredible to witness, and it fills me with hope! I also want to thank the water protectors of Standing Rock and beyond, who are doing this work day after day and putting their bodies on the line. They're defending the sacred and fighting for us all. Gunalchéesh! --Siân Gaetano, children's and YA editor, Shelf Awareness