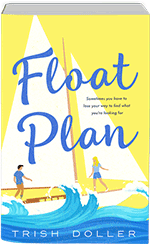 Since losing her fiancé, Ben, to suicide, Anna Beck has been sleepwalking through her life and her waitressing job. But then a forgotten calendar reminder pops up: the date for the sailing trip around the Caribbean she and Ben had planned. Armed with only the most basic sailing knowledge and a desperate desire to move forward somehow, Anna hoists anchor from Fort Lauderdale on her own, unsure whether she'll even make it to Miami, much less the islands on her itinerary. In her warmhearted adult fiction debut, Float Plan, Trish Doller charts Anna's travels to various Caribbean islands, and her gradual passage out of paralyzing grief into something akin to hope.
Doller (Something Like Normal) tells her story in Anna's voice, giving readers first-person insight into both Anna's sailing experiences and her emotional struggles. The trip's beginning is not auspicious. Anna runs aground in Bimini, realizes her knot skills need serious work, and makes a fool of herself with a handsome stranger she meets at a bar. Unsure whether she should keep going, but unwilling to slink back home, Anna advertises for a crew member and ends up with Keane Sullivan: good-looking, Irish and fundamentally kindhearted. Keane, a professional sailor, is wrestling with life changes of his own. After losing part of one leg in an on-land accident, he's learned to sail again with the help of a prosthetic limb. Though he's still a highly capable sailor, Keane struggles not only with self-doubt, but with taunts, sneers and dismissal: since his injury, many people in the sailing community no longer think he's as good as he was.
Together, Anna and Keane push on: from Bimini to Nassau, and from there to the Turks and Caicos, heading for Puerto Rico and eventually Trinidad. Anna is determined to stick to Ben's original itinerary, not really caring if all the islands start to blur together, while Keane gently urges her to deviate from the route when it makes sense. Doller renders their growing friendship believably: witty banter, tentative questions about each other's lives, awkward moments when Anna's still-fresh sorrow flares to the surface. They meet a cast of colorful characters in the various marinas they visit: gray-haired hippies turned sailors, swaggering men who relish the thrill of a race, even chic social media influencers taking advantage of the Caribbean's picture-postcard backdrops. In Providenciales, Anna falls unexpectedly in love with Queenie, one of the many stray "pothounds" who haunt the shores of the islands, and they end up taking the little dog on as a passenger and mascot. A rough crossing to San Juan leaves Anna injured and all of them exhausted, but to Anna's own surprise, she finds she's drawing on a resilience she didn't know she had. The idea of truly living without Ben--after months of believing only survival was possible--both intrigues and terrifies her.
Doller's love for the Caribbean comes through in her vivid descriptions of the islands--not only pristine beaches and colorfully painted houses, but warm, welcoming residents who hail from all over the world. There's Christmas karaoke on Jost Van Dyke, cliff diving, swimming with sea turtles and, of course, plenty of delicious cocktails. But as she hops from island to island, Anna isn't (only) drowning her sorrows or trying to outrun them. She's trying to figure out how to live a life entirely different from the one she had been planning. The gorgeous setting and her new companions don't automatically make that easier, but they provide some much-needed distraction and perspective as her broken heart begins to heal.
As their journey continues, Anna and Keane not only become better sailing partners, but recognize their growing attraction. Anna knows, though, that she has to deal with her grief: she can't move forward, romantically or otherwise, until she has faced the pain and abandonment of Ben's death. But, Keane reminds her, that doesn't mean forgetting about Ben altogether. As they walk past houses and other structures wrecked by hurricanes, Keane shares with Anna a belief he's picked up from the islands: that of building a new house alongside the ruins of the old. Anna gradually comes to accept that Ben will always be a part of her life, but she must consciously decide to build new memories out of the materials she has. Though she and Keane are both wary of falling for one another, Doller gives them--and readers--plenty of sweet romantic moments (and a few seriously sexy ones).
Full of appealing characters, interesting tidbits about sailing and striking island sunsets, Float Plan is at once lighthearted escapism and a sensitively rendered account of a woman's life-altering grief. Doller's breezy writing style, deep compassion for her characters and knack for snappy, entertaining dialogue make this trip around the Caribbean a delight. --Katie Noah Gibson