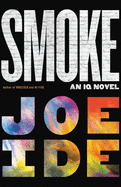 In Joe Ide's fiery-hot Smoke, private detective Isaiah Quintabe, aka IQ, and his partner in crime, Juanell Dodson, take stabs at safer career paths, only to find killers and sociopaths in the way.
Isaiah needs a break. He's physically and soulfully exhausted from looking into the abyss. Gangs have put a price on his head, and they'll be coming after his friends next. Without a plan or destination in mind, Isaiah escapes Long Beach, Calif., for a life less likely to get him killed. He finds peace in a small Northern California town--until an escaped mental patient named Billy breaks into Isaiah's rented apartment ranting about a serial killer on the loose. Calling the cops would only get Billy transported back to the psychiatric hospital, and he isn't crazy. A serial killer is indeed on the loose, and Isaiah needs to help apprehend him.
Back in Long Beach, Dodson's wife, Cherise, tells him to get a legitimate job or look for another wife, so he reluctantly starts an internship at an advertising agency. He immediately realizes his boss is about to be fired by corrupt higher-ups, and Dodson sets out to protect his boss's--and his own--job.
Ide's fifth installment of the exciting IQ series (following Hi Five) shows no signs of sequel fatigue, and Smoke can be read as a standalone, but new readers will become even bigger fans by diving into the previous books. The author has an innate ability to find the humor and humanity in both the evil and the innocent characters, and shows that rediscovering one's mojo can come only after confronting obstacles. --Paul Dinh-McCrillis, freelance reviewer