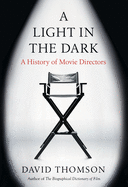 Prolific British film critic and historian Thomson (The Biographical Dictionary of Film) writes with breezy, effervescent assurance and lucid insight about filmmaking and filmmakers in A Light in the Dark. These 15 razor-sharp essays offer thoughtful biographies of numerous film directors and assessments of their work. Thomson will remind many film buffs of Pauline Kael in his ability to combine succinct, maverick appraisals with an encyclopedic knowledge of films to back up his beliefs. His life and career overviews of the directors are equally original and fresh.
Even fans who have read many biographies of Orson Welles and Alfred Hitchcock will find those concise chapters full of new insight. Thomson calls Welles "a perfectionist who loathed his own meticulous craft, and a philosopher who had lost faith in meaning." He believes Welles intentionally sabotaged many of his films (including Touch of Evil and The Magnificent Ambersons) by walking away from them so he could blame others for ruining them. Thomson writes that the pitch of suspense in Hitchcock's films is "tied to his smothered lust." He also theorizes that Hitchcock's brutal film Psycho was his revenge on filmgoers who rejected his most nakedly confessional film, Vertigo.
Among the many other directors profiled and critiqued here are Fritz Lang, Nicholas Ray, Jean Renoir, Martin Scorsese, Quentin Tarantino, Peter Bogdanovich, D.W. Griffith, Robert Altman, Leni Riefenstahl, Howard Hawks, Jane Campion, Stephen Frears and Spike Lee.
A Light in the Dark is an astoundingly entertaining, persuasive and cohesive collection of essays that should delight film buffs with new insights and new titles to add to their "must see" film lists. --Kevin Howell, independent reviewer and marketing consultant