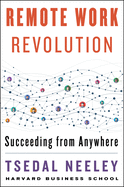 Tsedal Neeley (The Language of Global Success), the Naylor Fitzhugh Professor of Business Administration at the Harvard Business School, has been researching and planning a book about remote work teams for 20 years, but a worldwide pandemic has put her theories into practice in unimaginable ways. The result is Remote Work Revolution, a timely, thoughtful and practical guide to moving to effective remote teamwork.
In eight chapters, Neeley discusses how to coalesce a team by setting norms (what's the best way for each person to communicate, best times of day to reach each team member) and building trust; how to discourage "faultlines" ("invisible or hypothetical distinctions that split a group into... an 'us versus them' mentality") and encourage the idea of diversity as strength; and how to lead a team when you cannot physically be in a room together.
Neeley adopts Frances Frei and Anne Morriss's definition of leadership: "empowering other people as a result of your presence--and making sure that impact continues into your absence." Granting employees autonomy increases productivity, and her research bears that out. Neeley argues that the "Agile Manifesto for Software Development" can be scaled to move nimbleness and collaboration from onsite to distance-based work. And she supports her approach to "the deeper work" that allows colleagues to collaborate across cultural and language divides with real-world examples.
Each chapter ends with key takeaways, and her closing "Action Guide" lists questions to use with team members for putting Neeley's principles into practice. --Jennifer M. Brown, senior editor, Shelf Awareness