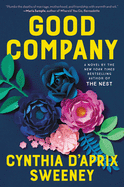 Following The Nest, Cynthia D'Aprix Sweeney once again tests the bonds between people in Good Company. Though it treads familiar ground--infidelity, the ups and downs of lifelong friendships, raising and letting go of a child--the author freshens the story by setting it against the backdrop of stage and screen productions.
Good Company is told mostly in three points of view: middle-aged mother and voice actor Flora; television actress Margot; and charismatic actor and theater founder Julian. Moving back and forth through 20 years, Sweeney draws out each character, exposing their flaws and strengths as they support and hurt each other.
Good Company is bookended by two photographs, aptly capturing moments that tell just one part of the truth. The story begins as Flora searches for a photo taken the year they all went to upstate New York and put on a play, when her daughter was five. Instead, she finds, tucked in a drawer, the wedding band her husband, Julian, claimed to have lost that summer--a discovery that calls her entire reality into question. By the time Flora and Julian, their daughter, Ruby, now 18, and their friends Margot and David all return to Stoneham for their annual retreat, readers have seen two marriages stretch and change, a child grow to adulthood, and four careers take off, flounder and settle.
Ruby takes a photo and everyone smiles. Despite this snapshot ending, Sweeney makes it clear that things are still in flux. Life, after all, isn't wrapped up neatly with a bow, and the betrayals and heartbreaks in Good Company won't be smoothed over any time soon. --Suzanne Krohn, editor, Love in Panels