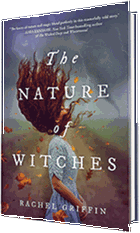 When climate change wreaks havoc, a super-witch is tasked with saving the world at the expense of her loved ones. Rachel Griffin's effective use of flawed, realistic characters and nature magic that warns against the ever-evolving climate crisis is bolstered by an enthralling magic system and a swoony love interest in her YA debut, The Nature of Witches.
Witches are born on either the solstice or the equinox, and their powers, which come from the sun, reach full strength during their birth season. They have used their powers to control the atmosphere for centuries, keeping the weather in their respective seasons running smoothly. But over the years, the "shaders--those without magic"--have taken advantage of the witches' powers, pushing their limits and ignoring the warnings that magic isn't infinite. Now, witches are trying to use their magic to combat extreme atypical weather but are being depleted of their powers--they are forced to regularly use magic out of season (when they're at their weakest), such as winter witches fighting a substantial blizzard in spring. Only a witch tied to all four seasons whose magic never fades, just changes--an "Everwitch"--can wield enough magic to help balance the shifting atmosphere. Evers are rare, though, and 17-year-old Clara, described as having pale skin and red hair, is the first one in more than a hundred years. With the atmosphere collapsing and weather intensifying, the administration at her school, the Eastern School of Solar Magic, is looking to Clara "to make the difference."
What the administration doesn't know is that Clara has no intention of making any kind of difference. In fact, in 11 months, when the rest of the witches flee from the forthcoming total solar eclipse, she plans to stand in the shadow of the moon and cut off her connection to the sun, which will strip her of her magic. While Clara's teachers believe her magic might be able to "single-handedly restore stability in the atmosphere," Clara knows it comes with "a death sentence." Her magic is too big for her to control--"it builds and builds and builds, and when the pressure is too great, it searches for another means of escape," targeting those with whom she has an emotional connection. More than once, her magic has killed people she loves--first her parents, then her best friend, Nikki. Clara despises and fears her magic.
Then it happens again: her mentor, Mr. Hart, meets an untimely end because Clara's magic goes awry. The administration replaces Mr. Hart with Sang Park, an 18-year-old student in botany who's doing an advanced independent study at the school. Because there's no history between him and Clara, Sang, described as tall and lean with golden-bronze skin and thick black hair, is not at risk of being a target of Clara's magic. It's the perfect solution. Except, as each season passes, Clara and Sang grow closer, and as much as Clara tries to keep Sang at a distance, she finds herself falling for him. As Clara's power grows and the atmosphere fractures, Clara will have to choose between her duty to humanity and to herself.
The Nature of Witches by Rachel Griffin is a contemporary fantasy rooted in the power of change, both within people and in forces of nature. Griffin uses seasons to mark the passage of time and to parallel Clara's transformation. Each season's magic is personified and also vividly exemplifies Clara's journey to acceptance. For example, when readers first meet Clara, it's summer. Griffin defines summer magic as "big and bold"; Clara feels it's like a flood that she constantly fears drowning in. This emotion applies not only to the season but also sets up the obstacle Clara must overcome: her own magic's overwhelming strength, which she must learn to rein in. Griffin uses Sang, Clara's trainer and eventual love interest, to counterbalance Clara's instability. Sang is a spring witch and "spring magic is calm"; Sang also has the ability to "isolate that characteristic and project it outward," putting Clara more at ease. This pairing is not just functional--it's the catalyst for change Clara needs.
What Clara also needs is "to be seen by another person," and that person is Sang. Over the course of Clara's training, Clara and Sang's relationship develops into a beautiful and imperfect amalgam of gentle intimacy, raw emotion and love. The relationship develops organically and doesn't feel rushed, and the way Griffin describes their moments together is poetic and tangible. Clara is Sang's "magnificently disruptive force," while he is her sun.
Clara's transformation is what propels the story, but climate change lies at its epicenter. Griffin doesn't come across as preachy but, rather, matter of fact about the effects humans have had on the ongoing climate crisis: "No one wants to hear they're part of the problem--that they are the problem now." And while the real world doesn't have an Everwitch to help stop atypical weather, like the aurora borealis lighting up a Pennsylvania school's campus or a heat wave of 100-degree days in the middle of winter, Griffin wants it to be duly noted "that things are shifting, that we don't have as much control as we used to."
The Nature of Witches, a refreshing take on witches, is imaginative, romantic and inspiring. --Lana Barnes