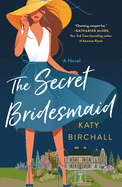 The Secret Bridesmaid, Katy Birchall's adult fiction debut, is a breezy romantic comedy about a Londoner with an unconventional job. Instead of an actual wedding planner, brides hire Sophie to act as the bridesmaid who's there to help, not to take over. In her words, "As a professional bridesmaid, I'm merely there to aid the bride in producing her vision for the day and be a helping hand to her. I'm not there to take control, but rather help the bride feel in control."
Sophie's life is so consumed by the weddings of others that she hardly makes time for a social life of her own. When an aristocratic mother hires her on behalf of her daughter--who absolutely does not want Sophie's services--Sophie finds herself working harder than ever to be a helpful fake best friend.
The Secret Bridesmaid is full of situational humor and sparkling banter with the bride's brother, Tom, but readers will be also invested in Sophie's character growth. She is a young woman so good at mitigating risk for others that she takes none of her own. If her job is to pretend to be someone else and take care of everything the brides desire, who is the real Sophie and what does she want?
Sophie goes to great lengths to help her clients, with results that will make readers laugh or shake their heads at all manner of wedding antics. Those looking for escapism and a bit of romance will find a lot to enjoy in The Secret Bridesmaid. --Suzanne Krohn, editor, Love in Panels