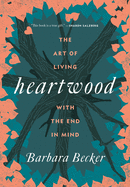 An unfortunate feature of contemporary Western culture is the denial of death. But as interfaith minister Barbara Becker demonstrates in her emotionally forthright, often inspiring Heartwood: The Art of Living with the End in Mind, a conscious engagement with this "last and greatest taboo" can be an invaluable resource in living a life filled with meaning and purpose.
Becker is eclectic in her selection of teachings from various spiritual traditions that illuminate brief but revealing vignettes, including her story of losing two daughters to miscarriages (she has two sons), and accounts of her experiences as a Zen Buddhist-trained hospice volunteer in New York City. Some of her most moving anecdotes involve her father, a neurosurgeon, whose first wife was killed in a boating accident only months after their wedding. But her stories are not all somber, as illustrated by the history of Felix, a skeleton first used by her grandfather as a medical student and that remained a family heirloom for two more generations of doctors over 100 years.
Becker also finds deep meaning in a commemoration at the site of the Wounded Knee Massacre at the Pine Ridge Reservation in South Dakota, and in an improvised ceremony with a friend named Generous Bear at Manhattan's Corlears Hook Park, the site of a 17th-century massacre of Native Americans near her Lower East Side home.
Heartwood is a disarmingly unaffected book, but it would be an error to equate that accessible style with a lack of depth. This is a resource filled with wisdom and one that readers will find themselves returning to often in both good times and bad. --Harvey Freedenberg, freelance reviewer