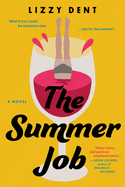 The Summer Job by Lizzy Dent is a sweet, poignant romance that starts when two good friends each make a bad choice. Anyone who's ever made a terrible mistake, only to realize it was a blessing in disguise, is sure to relate. Heather is a renowned sommelier who has been hired to spend the summer working in a Scottish hotel. But she blows off the gig to head to Italy with her ne'er-do-well boyfriend. Heather's roommate and best friend, Birdy, is at a loss for what to do, because Heather, who pays for their flat, needs to sublet it while she's away. Desperate for a place to stay, on a drunken whim she heads to Scotland, pretending to be Heather.
Only it turns out that it's a big, fancy hotel, not the small deal that Heather made it out to be. And "Heather" is in way, way over her head. Determined not to ruin Heather's reputation, Birdy gives herself a crash course in wine tasting and finds herself falling in love with both the hotel staff--especially James, the chef--and the Scottish countryside. Could this finally be the home that Birdy has spent her life searching for?
Funny and heartwarming, The Summer Job is a delightful summer escape. Birdy's antics are a bit cringeworthy at first, but slowly she realizes the importance of honesty and belonging, and begins a personal transformation. The Scottish setting is pure magic, and fans of Emily Henry or Sophie Kinsella will fall for debut novelist Lizzy Dent.--Jessica Howard, bookseller at Bookmans, Tucson, Ariz.