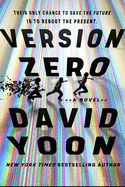 David Yoon (Frankly in Love) makes his adult fiction debut with Version Zero, a fast-paced, smart technothriller set in the near future. It's the story of Max, the son of undocumented Salvadoran immigrants, who works for a Facebook-like company called Wren. Max, as a "Brown," is a bit of a diversity wunderkind in the "Whiteman" world of Wren, and as such is called to work on a super-secret project.
At first Max is thrilled to have hit the big league, but then he starts to question the morals of the project he's working on, whose entire goal is to mine the data of Wren users. He's immediately fired and blacklisted from finding another tech job, so with the help of his best friend, Akiko, an expert programmer, Max sets out to expose what's going on at Wren.
Yoon examines many things modern technological life takes for granted in a clever, satirical way, as Max, Akiko and the group of misfits they bring together try to re-create the Internet in a kinder way. Surprising no one, the retaliation against them is quick and severe. Exploring themes of privacy and privilege, and the responsibility of the average Internet user, Version Zero brings up thoughtful questions amid its frenetic energy. And, as the scope of Max's schemes broaden, he realizes that what he's doing puts everyone he loves at risk. When is protecting one's own circle more important than benefiting humanity at large? --Jessica Howard, bookseller at Bookmans, Tucson, Ariz.