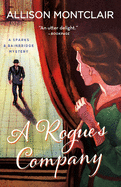 A Rogue's Company, the third entry in Allison Montclair's Sparks & Bainbridge series, is a historical romp through postwar London. The Right Sort Marriage Bureau is doing remarkably well, and Iris Sparks and Gwen Bainbridge are quite pleased with how their matchmaking venture is going. If only their personal lives weren't so complicated: Iris, who goes by "Sparks," is having flashbacks to her time spying for Great Britain during the war, and juggling a relationship with an unsavory bloke, and Gwen has been unable to regain custody of her son since her in-laws took him away after her mental breakdown upon her husband's death.
Gwen, determined to prove she is now mentally stable, confronts her irascible father-in-law, Lord Bainbridge, who has just returned from six months in Africa, only to be summarily kidnapped along with him. Sparks, alarmed by Gwen's disappearance, calls on some wartime contacts for more information. Soon, willingly or not, both ladies find themselves hobnobbing with crooks and thieves as they try to figure out exactly what Lord Bainbridge has been up to.
Montclair ably captures the relief of the postwar era in the fast-paced and funny A Rogue's Company, as those who survived the Blitz and the battles try to put their lives back together. Gwen and Sparks have a delightful repartee, and A Rogue's Company further fleshes out their already enjoyable characters as they scurry about London in search of the truth. Readers of Ashley Weaver or Rhys Bowen are sure to adore the adventures of Sparks & Bainbridge. --Jessica Howard, bookseller at Bookmans, Tucson, Ariz.