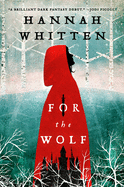 Full of murderous plants, secrets and romance, Hannah Whitten's For the Wolf is an enthralling fantasy debut that will leave readers eager for more. The younger of twin sisters, Red has been raised from birth to fulfill a centuries-old demand: the second daughter is "For the Wolf." Over several centuries, Red's society has sent a few young women, each of whom developed a magical mark around the age of 20, into the Wilderwood in hope of satisfying the Wolf and convincing him to free the Five Kings.
Skeptical but compelled magically and socially, Red enters the cursed forest full of horrors, barely escaping the trees and roots desperate for her blood, and makes her way to the Wolf's crumbling, forbidding castle. With elements of Little Red Riding Hood and Beauty and the Beast, For the Wolf plays with several tropes familiar to Western readers while never feeling constrained by the framework of a strict retelling. There's a brooding, tortured young man in a terrifying forest, forced to live out his days fending off an ancient curse and the mysterious entity behind it all. There's a heroine with more power than anyone expects. And there's an irresistible romance.
Whitten's detailed imagery builds an atmosphere of dread and horror, and strong characters, the romance between them and the promise of answers propel readers forward as the novel builds to a riveting conclusion.
For the Wolf is poised to capture readers as surely as the Wilderwood does Red and her Wolf. --Suzanne Krohn, editor, Love in Panels