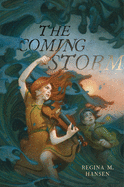 Ethereal and enchanting, this YA fantasy debut set on Canada's Prince Edward Island, suffused with folklore and mythical magic, tells an elegiac story about the complexity of sorrow.
Thirteen-year-old fiddler Beet MacNeill is heartbroken when her older cousin, Gerry Campbell, dies mysteriously and violently at sea. He shows up as a ghost playing his fiddle--but only to Beet. Then, claiming to be blood related, the eerily beautiful Marina Shaw arrives to collect Gerry's baby son.
Her offer is refused. But Marina is suspiciously persistent. Beet distrusts the woman's "greedy" singing voice--how it drags people toward her like an undertow, hollow and in opposition to ghost Gerry's sweetly sad tune. Beet works to stop Marina, helped by Jeannine, her supernatural-loving friend who'd "see the Devil in a boiled egg," and by "stupid Sean MacInnes," who always stands too close to Beet. But Marina may be more legend than lady; the ocean itself moves with her music and Beet knows well that "the sea will have its own."
This multilayered narrative builds like a rising tide; beautifully voiced chapters from Beet in 1950 alternate with chapters recounting from past decades a shapeshifting sea monster and a woman seen when someone dies at sea. Regina M. Hansen's lyrical prose achieves stunning worldbuilding: "the thrum of the sea like a kind of magic"; waves "white capped like the manes of gray horses." Above all, Beet's devotion to protecting the son of the cousin she grieves lends her a special strength. It is in that grief--and in Gerry's song--where Beet searches admirably for answers, exalting the hope and love in sorrow. --Samantha Zaboski, freelance editor and reviewer