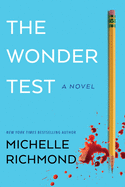 A New York City mother and her teenage son seek a fresh start in a community where property values depend on academic test scores--and underperforming students go missing--in Michelle Richmond's slow-burn thriller The Wonder Test.
FBI agent Lina Connerly has had a terrible year, after the deaths of an informant, Lina's husband and her father. She relocates from New York City to Greenfield, Calif., with her 15-year-old son, Rory, to the house her father left her. Learning of her background, a local cop enlists Lina's help in solving the disappearances of students who later turn up completely shaved, traumatized and unable to talk about what happened. Meanwhile, Rory has acclimated to his new surroundings and starts dating Caroline as the school prepares for the upcoming Wonder Test. Think: the SATs on steroids.
House values in Greenfield have greatly increased over the last five years because the community has had the highest test scores in the country, but the local elite remains unsatisfied. Rory scores well on the pre-tests but Caroline doesn't, and she's seen arguing afterward with an unidentified adult. Then Caroline vanishes. Suspecting a connection between Caroline's disappearance, the students who previously went missing and the Wonder Test, Lina takes Rory on a rescue mission to find Caroline before harm befalls the girl.
Each chapter in Michelle Richmond's immersive novel starts with a Wonder Test question alluding to what's about to happen. For example, Chapter 61's opening--"Humans communicate fear through smell. Why does this matter? Why doesn't this matter?"--portends an imminent violent confrontation. The technique adds a spark to Richmond's incendiary warning of how dangerous unchecked greed can become. --Paul Dinh-McCrillis, freelance reviewer