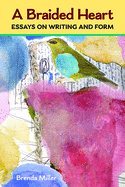 In A Braided Heart, Brenda Miller (An Earlier Life), a professor of creative writing at Western Washington University, delivers a master class on the composition and appreciation of autobiographical essays.
In 18 concise pieces, Miller tracks her development as a writer and discusses the "lyric essay"--a form as old as Seneca and Montaigne that prioritizes imagery over narrative. Metaphors join the fragments of a life story, and "peripheral vision" of past events reveals what was most important. She takes a challah loaf into class to symbolize "separate parts intersecting," much like plot strands.
The essays give flashes of insight into the author's life and writing process. "Durable Goods" remembers an ex-boyfriend through a miniature pen he made, while "On Thermostats" likens the literal temperature at a writers' colony to the quest for control--over a writing project or over life in general. Elsewhere, Miller weighs the Internet's power to connect or distract, and celebrates collaboration between authors.
This is not just a how-to guide for writers, though. It exemplifies as much as it teaches, citing everyone from Mark Doty to Virginia Woolf as it encourages readers to embrace a reflective mindset, drawing connections between life experiences and pinpointing moments of meaning. For instance, Miller's "hermit crab" essays (which adopt an existing form), shaped around rejection letters and an apology, allowed her to tackle painful memories and tap into universal emotions.
These innovative and introspective pieces, ideal for fans of Anne Fadiman, showcase the interplay of structure and content. --Rebecca Foster, freelance reviewer, proofreader and blogger at Bookish Beck