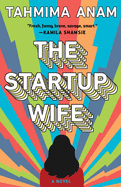 Endowed with witty prose and an intriguing premise, The Startup Wife by Tahmima Anam is a sparkling send-up of modern-day entrepreneurial culture, featuring a Bangladeshi American coding genius and her unexpected journey to startup fame.
A whirlwind romance leads to a spontaneous wedding between Asha, a Ph.D. student in Cambridge, Mass., and Cyrus, a charismatic spiritual guide who creates customized rituals for people based on their interests, beliefs and passions. Inspired by the popularity of her husband's services, Asha abandons her degree, designs an algorithm to produce faith-based rituals on demand and launches a social media platform called We Are Infinite ("WAI"), with Cyrus as its public-facing leader.
WAI joins an exclusive female-led New York tech incubator called Utopia, which, along with nurturing dynamic startups, is tasked with the mission to "find solutions to the inevitable demise of the world as we know it." Thanks to WAI's incredible success, Cyrus's popularity soars to cult-like status. Complex cracks appear in his and Asha's relationship, prompting Asha to question the wisdom of so closely aligning her work life and marriage. Meanwhile, there's a global pandemic raging and the apocalypse that Utopia was preparing for might finally be here.
The Startup Wife is a highly successful departure for Anam (A Golden Age; The Good Muslim; The Bones of Grace), acclaimed for her elegant historical fiction. Anam writes perceptively about startup culture through the experiences of Asha and her female cohort at Utopia, offering thoughtful commentary on the challenges facing women who occupy space in this male-dominated field. --Shahina Piyarali, reviewer