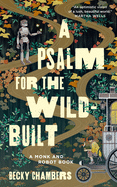 Hugo Award-winner Becky Chambers (The Galaxy, and the Ground Within) delivers a meditative glimpse of a hopeful future with A Psalm for the Wild-Built, the first volume in her Monk & Robot series.
Centuries after the Awakening--when the robots of Panga suddenly became sentient and disappeared into the wilderness, apparently for good--humankind has achieved a comfortable sustainability, and life in Panga's only city is utopic. Despite this, Sibling Dex is unsatisfied; they long "to inhabit a place that spread not up but out." They trade their urban vocation for that of a tea monk, traveling the countryside and offering patrons comfort in the form of a warm cup and a sympathetic ear. Driven by a lingering sense of lack, Dex ventures deeper into the wilderness long untouched by humans and encounters Mosscap, a robot--the first to make contact since the Awakening. Mosscap, like Dex, seeks something elusive. Charged by its fellow robots with checking in on humanity after their long separation, Mosscap puts to Dex a profound question: "What do humans need?"
Droll Dex and wide-eyed Mosscap make for an irresistible pair, their diverging outlooks giving Chambers ample opportunity to exercise her gift for introspection. As the monk and robot's exchanges open into a wider meditation on consciousness and impermanence, the gentle touch with which Chambers handles her material makes the book's loftiest philosophical aims feel grounded. With a pervading sense of optimism and warmth, A Psalm for the Wild-Built inaugurates an exciting series from one of science fiction's brightest stars. --Theo Henderson, Ravenna Third Place Books in Seattle, Wash.