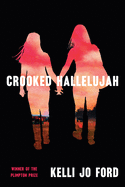 Kelli Jo Ford, a Paris Review Plimpton Prize winner, makes a magnificent #OwnVoices novel debut with Crooked Hallelujah, which was named a Shelf Awareness Best Book of 2020 and longlisted for the 2021 Carnegie Medal for Excellence in Fiction and the Center for Fiction's 2020 First Novel Prize.
In 1974, 15-year-old Justine lives in the Cherokee Nation of Oklahoma with her aging Granny and embittered mother, Lula. Almost seven years ago, Justine's father delivered his family to Beulah Springs Holiness Church for service and vanished: "Lula held herself together with a religion so stifling and frightening that Justine... never knew if she was fighting against her mother or God himself." Her first act of rebellion--sneaking out to meet an older boy--ends in rape. The traumatized, silenced teen gives birth to Reney, sealing their symbiotic relationship for life: "Mom was my sun and my moon," Reney later observes.
In the decades that follow, Justine works hard to break the cycle of abandonment and neglect for Reney. Despite floundering relationships with useless men, Justine eventually marries Pitch, whom she can't live without--no matter how many times they leave each other. Justine and Reney move to Texas, where Reney settles into a ready-made family, finding comfort and support in Pitch's family's farm, most especially with Pitch's debilitated mother, another forsaken woman, although she's still married to his philandering father. As Reney matures, she seems doomed to repeat her mother's mistakes but eventually finds the strength to drive far, far away.
A citizen of the Cherokee Nation of Oklahoma, Ford adroitly, affectingly weaves Indigenous history into her spellbinding narrative, exposing displacement, cultural erasure and socioeconomic disparity. The interlinked story structure allows for an intriguing, vast cast, without losing sight of Justine and Reney. --Terry Hong, Smithsonian BookDragon