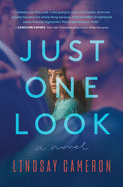 Lindsay Cameron's psychological thriller Just One Look features the sort of narrator who is more than just unreliable--she's terrifying. Cassie Woodman is a temp lawyer assigned to sort through e-mail messages and mark them as pertinent to a case or not. Tedious as this job is, Cassie finds a bit of happiness in a six-month-old exchange between Forest and Annabelle, a partner and his wife, and starts stalking them on the Internet. Cassie, aided by misuse of alcohol and over-the-counter medications, combs through search results and social media and soon finds out that they've split up, news that ratchets up her obsession.
Determined to replace Annabelle, Cassie orchestrates meetings with Forest using information that technology makes alarmingly easy to access. Cassie isn't a tech mastermind--just a disturbed young woman--but with a little online digging she knows where he'll be and all of his preferences.
Cameron (Biglaw) reveals bits of Cassie's sinister past throughout, leading readers to wonder how it's possible Cassie's managed to go this long with only a restraining order against her. Out of control and repulsive as Cassie is, however, Cameron sometimes softens her just enough to make empathetic readers think she might be redeemable. Then Cassie stares at a knife on her table and imagines slicing her ex-boyfriend's throat with it before instead calmly cutting a bit of cheese.
The draw of Just One Look is not that the main character should win the day, but that readers will be breathlessly following the twists as they wait for her to do just the opposite. --Suzanne Krohn, editor, Love in Panels