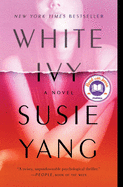 Susie Yang's electrifying debut novel, White Ivy, earned its spot on the longlist for the Center for Fiction's 2020 First Novel Prize. It was also named a Read with Jenna Today Show Book Club Pick and a USA Today Best Book of 2020. Part immigrant story, part elitist takedown, part contemporary novel of wicked manners, White Ivy is an unpredictable spectacle.
At two, Ivy Lin was left with her maternal grandmother in China until she turned five, when her parents finally had the resources to reunite the family "in a wonderful state in America... called Ma-sa-zhu-sai." Reinventing herself as American proves arduous, with abusive parents, a thieving grandmother, a sudden move to New Jersey during high school and no friends. To survive, Ivy learns early the power of manipulation. Her first chance to escape is to college in Boston, after which she begins working as an elementary schoolteacher. A chance re-encounter grants her reentry into the Speyer family's seemingly halcyon circle--the (now-former) U.S. senator, his doyenne wife, enviously bohemian daughter Sylvia and, most importantly, perfect son Gideon, who was the object of Ivy's middle-school idolatry.
In just a few months, Ivy might grasp that happily-ever-after she's been relentlessly maneuvering to achieve. But now that she's at the edge of acceptance into society's inner circle, the alluring pull of self-sabotage grows stronger.
Yang's cast might be heavy with unlikable characters--scheming Ivy, pretentious Sylvia, bland Gideon and unrepentantly roué Roux (no spoilers!)--but the story they populate is delectably addictive and frightfully perceptive, as one surprise begets another shocking turn, leading readers far off expected paths. May the deceptions never end. --Terry Hong, Smithsonian BookDragon