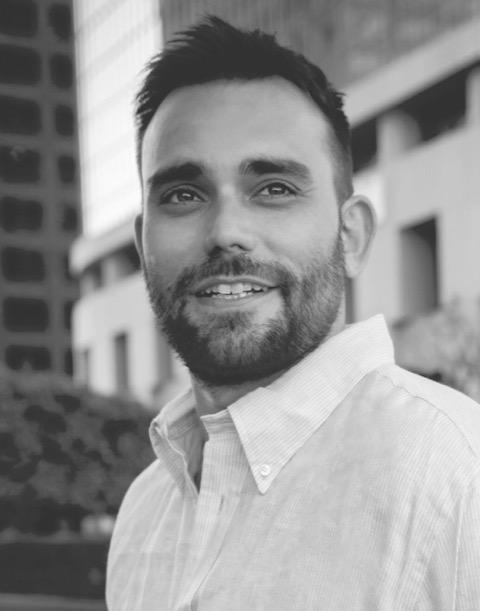 Andrew Aydin
(photo: The1point8)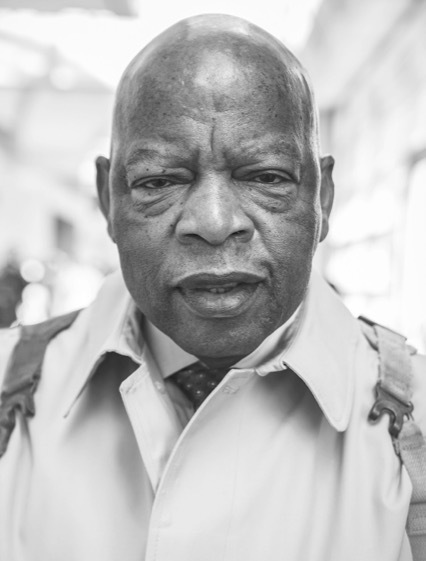 John Lewis
(photo: The1point8)
Andrew Aydin is the creator and co-author, with the late Congressman John Lewis, of the award-winning graphic memoir series March, which chronicles Lewis's participation in the civil rights movement up to the passing of the Voting Rights Act of 1965. Run: Book One picks up where March ends, focusing on the backlash to the Voting Rights Act as well as growing division within the civil rights movement. Run: Book One is co-authored by Aydin and Lewis, and illustrated L. Fury and Nate Powell. It's out now from Abrams ComicArts.
What does it mean to you that Run: Book One will be released after John Lewis's death?
I feel it is my responsibility to continue to tell his story and to make it real, to make it plain to generations yet unborn who might never know this great man and all that he accomplished, to know how much he meant to our lives, to our culture, to our society and to our history. I never imagined when we started this more than 13 years ago that I would have to carry on without him. But I know that he's with us and that this is what he'd want me to do.
Do you think Run has anything to teach readers about how to handle disagreements that occur within a movement or group that shares some fundamental goals?
I know that the Congressman wanted these stories to be told so that future generations could learn the lessons of how they built success and how they failed. I hope that people who read this book understand that there were divisions in the movement both around tactics and philosophy, integration and separatism, as well as around what it is to lead. I think many of the questions the civil rights movement faced in 1965-1966 bear a striking resemblance to the questions and challenges young people face organizing today.
Run delves deeply into topics--like the Vietnam War--that may sometimes be thought of as separate from the civil rights struggle. Do you hope that Run reminds readers that the aims of the movement reached far beyond voting rights?
Yes. I hope this book shows people how the struggles against war, for voting rights, for a living wage, for equal protections under the law--they are all interconnected. If we can understand that context, then we can overcome those obstacles and continue building what the Congressman called the beloved community.
Do you think there's a tendency to view the civil rights movement as effectively concluded by the events of the March trilogy and the Voting Rights Act of 1965? Is that something you hope Run might help change?
No. The Congressman was clear--the Civil Rights movement ended for him with the signing of the Voting Rights Act of 1965. But what happened afterward was just as important to understand. The whole dynamic of America's attitude toward the movement changed. When you look at this history, you have to keep in mind not just what the movement itself was doing, but what the forces of white supremacy did to change their tactics and approach. The conflict fundamentally changed.
With so many years of hindsight, do you think it's possible to determine which activist strategies paid off and which were less successful?
I think you approach any strategy with the time period in which it was executed in mind. I think some strategies that didn't work then could work today, and I think some of the strategies that did work back then might not work so well today. Behind everything is Congressman Lewis's commitment to the philosophy and discipline of nonviolence. To the Congressman, nonviolence was a way of life and a way of living. I think if we all were a little more nonviolent in our lives, the world would be a better place. Ever since those early days with Jim Lawson in the basement of Kelly Miller Smith's Baptist church in Nashville, John Lewis preached the gospel of nonviolence. I hope that readers understand that wasn't always easy, that people disagreed with him. But through it all, his commitment never wavered.
There are many scenes in Run that echo injustices still occurring in the present day. How do you portray these echoes while still giving readers hope that positive change is possible?
The Congressman used to say, "Come walk in my shoes, and I will show you change." When you learn about his story, you know that life is full of ups and downs. But he never gave up, he never gave in, he never gave out. That perseverance, that strength of spirt is what allowed him to become the icon that we know today. And it would be wrong to act like there were not tough days for him. It would be wrong to pretend that there were not tremendous obstacles and setbacks that he faced over and over again. But when you look at the America that he left behind one year ago, despite all the challenges it is still a better America than the one he was born into.
There are references in Run to the importance of comic books in the Civil Rights movement. Given that legacy, were you or John Lewis ever surprised by the success of the March trilogy? What have you learned about the importance of making history accessible?
When the Congressman and I started working on comics more than 13 years ago, we set out to teach young people about their power, to ignite a new flame of resistance to the status quo. In fact, we published an article just before the release of March: Book One stating our intent to use these comics to ignite a new nonviolent revolution in America. I know that the Congressman felt that March had succeeded beyond our wildest dreams. But as was often the case with Congressman Lewis, he also felt he couldn't rest, that we had to do more, so we started working to tell the next chapter.
Comics as a medium--not a genre--are uniquely situated to achieve those goals. Today young people grow up as digital natives, they grow up on the Internet and their language is sequential narrative, the combination of words and pictures telling a greater story than either could tell on their own. If we want to educate and inspire these young people, we have to use their language to do so. Comics are the future. Congressman Lewis knew it, and that's why he worked so hard and spent so much time traveling to schools and libraries across the country speaking about our comics, our work and their power. I only wish that he was still here today so that we could go back on the road together one more time.
Can you think of any instances where L. Fury and Nate Powell's art added dimension to a scene that struck you as unexpected or particularly powerful?
The scene that resonates with me, that really hit me in my gut was Fury's illustration of Congressman Lewis leaving SNCC for the last time. Seeing that image and knowing that I would likely never go back to the Congressman's office, it made me cry. I feel like that image was not just for Congressman Lewis but also for me and the end of this chapter in my own life. --Hank Stephenson