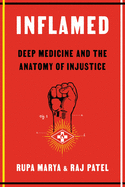 Inflamed: Deep Medicine and the Anatomy of Injustice invites readers on an illuminating journey through the human body, exploring the inflammatory damage wrought by poverty, racism and injustice. Rupa Marya, a physician, and Raj Patel (The Value of Nothing) encourage a renewed, post-pandemic reckoning with ongoing systems of oppression.
"Inflammation" is used as a medical term as well as a metaphor for the damaged state of our overheated planet as Marya and Patel take aim at the dehumanizing impact of colonialism's promotion of profits over people, exploitation of resources over preservation. Modern medicine, a product of this mindset, dispenses treatment to individuals without regard to their ancestral trauma or history, and it is unable to heal what truly ails them. No chemical, the authors explain, can erase the cumulative burden of exposures from before birth or remove social, ecological or economic injustice.
Marya and Patel are compelling storytellers; there is a steady brilliance to their writing as they blend scientific research, patients' anecdotes and oral histories to set forth a prescription for repairing relationships damaged by systems of domination. It begins with small acts, such as attaching patient photographs to CT scans to promote physician empathy, and expands to actively challenging air and noise pollution in poor neighborhoods, predatory lending, incarceration of minorities, the monocropping of foods, the clear-cutting of forests, the wage gap and attempts to control women's reproductive power.
Visionary in scope, Inflamed will ignite dynamic conversations toward a boldly sweeping movement of restoration and healing through active decolonization. --Shahina Piyarali, reviewer