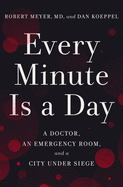 The Bronx's Montefiore Medical Center serves an ethnically diverse community of the working poor in New York City. Between March and September 2020, 6,000 Covid-19 patients crossed its threshold. Nearly 1,000 of them died. Unfolding in terrifying real time, Every Minute Is a Day is emergency room doctor Robert Meyer's riveting diary of an unprecedented crisis.
Compared to AIDS and 9/11, the previous medical disasters of Meyer's 25-year career, Covid felt bewildering for how quickly the situation changed. High fever and dangerously low blood oxygen were the initial hallmarks of the illness, but new symptoms and potential therapies emerged all the time. Medical staff learned by doing. For instance, "proning" (turning people onto their stomachs) was found to forestall intubation in many cases.
As the morgue filled up, Meyer was distressed not just by patients dying apart from loved ones, but at the thought of seriously ill people avoiding hospital treatment for fear of infection. Relating bereavements from his past--his mother was killed by a drunk driver; his son's friend died of cancer--helps him set the pandemic in context. He also weaves in Montefiore's history and his colleagues' struggles. Covid turned personal when his mentor and the ER director's father both tested positive.
Compiled into a firsthand account by journalist Dan Koeppel (Banana), Meyer's cousin, and based on interviews as well as e-mails and texts they exchanged, this is hard-hitting nonfiction in the vein of Five Days at Memorial. Its re-creation of an atmosphere of daily panic and uncertainty makes it as absorbing as any thriller. --Rebecca Foster, freelance reviewer, proofreader and blogger at Bookish Beck