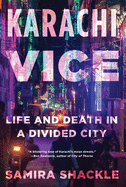 In Karachi Vice: Life and Death in a Contested City, British-Pakistani investigative reporter Samira Shackle incisively explores recent violent events in Karachi, Pakistan's industrial and financial center, through the accounts of five working-class Karachiites.
Shackle offers a truly intimate view of the port city's reckoning with terrorism and crime, having spent extended periods in Karachi's most dangerous neighborhoods to understand the complex dynamics among rival gangs, corrupt officials, extremist political groups and citizens struggling to make an honest living. A storyteller at heart, she captures with engaging detail the day-to-day experiences of a schoolteacher, an ambulance driver, a television reporter, a community architect and a villager protesting the destruction of her home by a wealthy developer.
The ambulance driver, Safdar, works for Pakistan's largest charitable organization, the Edhi Foundation. The foundation's office in Karachi keeps a stone swing outside for abandoned babies, while its hospital and ambulances treat the poor, and rescue those injured in violent political clashes and gang-related crimes. Shackle juxtaposes the good work of the foundation and people like Safdar with the criminal masterminds who control public access to essential utilities like water, and the ineffectual, corrupt authorities who look the other way.
Understanding Karachi, perched on the Arabian Sea, is critical to understanding Pakistan, says Shackle, who lives in London and helpfully chronicles major events of the last 30 years. The author's enthusiasm for her mother's birthplace is contagious and she is eager for readers to experience, through her debut, the gravitational pull and irrepressible sprit of Pakistan's most cosmopolitan metropolis. --Shahina Piyarali, reviewer