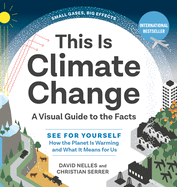 Using research gathered from more than 100 scientists, David Nelles and Christian Serrer interpret climate change data and capture it visually in This Is Climate Change: A Visual Guide to the Facts. They urge readers to "See for Yourself How the Planet Is Warming and What It Means for Us" as they walk their audience through clearly illustrated, logically ordered chapters covering topics that include how the Earth's climate functions and the impact of rising temperatures on the cryosphere (frozen areas), the oceans, weather, ecosystems and, of course, humans.
Of significant interest to climate change doubters, or those who simply want better to understand human-made climate change, is a detailed section that explains and negates other possible causes of global warming. Nelles and Serrer, university students in Germany, are dedicated to presenting a balanced explanation of climate change, free from hyperbole and thoroughly cited.
Though this tidy little book, which reads like a nonfiction picture book aged up for adults, comes in at only 128 pages, it's packed with information (a lengthy bibliography is provided digitally). This book will take some time to digest, but the resulting understanding will prove useful in conversation or when interpreting the news.
At the end, the young authors urge, "We must all become involved in the public conversation, and support sustainability, environmental protection, and climate justice, both at work and in our everyday lives."
This balanced, visual approach will help readers engage in this conversation as informed global citizens. --Suzanne Krohn, editor, Love in Panels