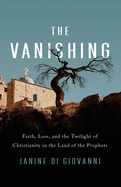 Journalist Janine di Giovanni, a Guggenheim Fellowship winner, turns her keen reportorial eye to the plight of ancient--and quickly disappearing--Christian communities in The Vanishing: Faith, Loss, and the Twilight of Christianity in the Land of the Prophets.
After years of reporting from some of the world's most dangerous places, di Giovanni begins her intensely personal journey into the realm of faith during a Covid-19 lockdown in Paris, France, in 2020. Observing the empty streets, she sees it as a somber metaphor for the alarming disappearance of Middle Eastern Christian communities from Iraq, Syria, Gaza and Egypt--lands where Christianity was born, but now where it is dying out. Moving effortlessly from past to present, she describes the "then and now" situation of vanishing Christians in these four regions, personalizing them with a rich repository of individual stories and interviews of people struggling to stay Christian (and alive) in war-torn and Muslim-majority countries. Fascinated by how believers manage to hold onto their faith amid oppression, poverty and war, she realizes that "their faith, in many ways, is more powerful than any of the armies I have seen trying to destroy them."
Di Giovanni's mesmeric narrative is an elegant balance of journalism and history that also includes semi-autobiographical reflections of the role faith plays in her own life. Seeking to illuminate those "worlds and communities of people who might, in one hundred years' time, no longer be on this earth," di Giovanni grants life forever on the page to those vanishing now. --Peggy Kurkowski, book reviewer and copywriter in Denver, Colo.